Marina Caneve | Haidari - Piraeus extension of Athens Line 3
Photographer Marina Caneve
Three years after the photographic project Di roccia, fuochi e avventure sotterranee, where Ghella commissioned five renowned photographers to document five major infrastructure projects around the world, photographer Marina Caneve returns to Athens together with curator Alessandro Dandini de Sylva.
The Venetian artist, while maintaining her own authorial freedom, documents the completed works of the Haidari-Piraeus extension of Athens Metro Line 3 which she first photographed in 2020.
The subway, which connects Athens Airport with the port of Piraeus, has seen the creation of six new stations: Agia Varvara, Korydallos, Nikaia, Maniatika, Piraeus, and Dimotiko Theatro.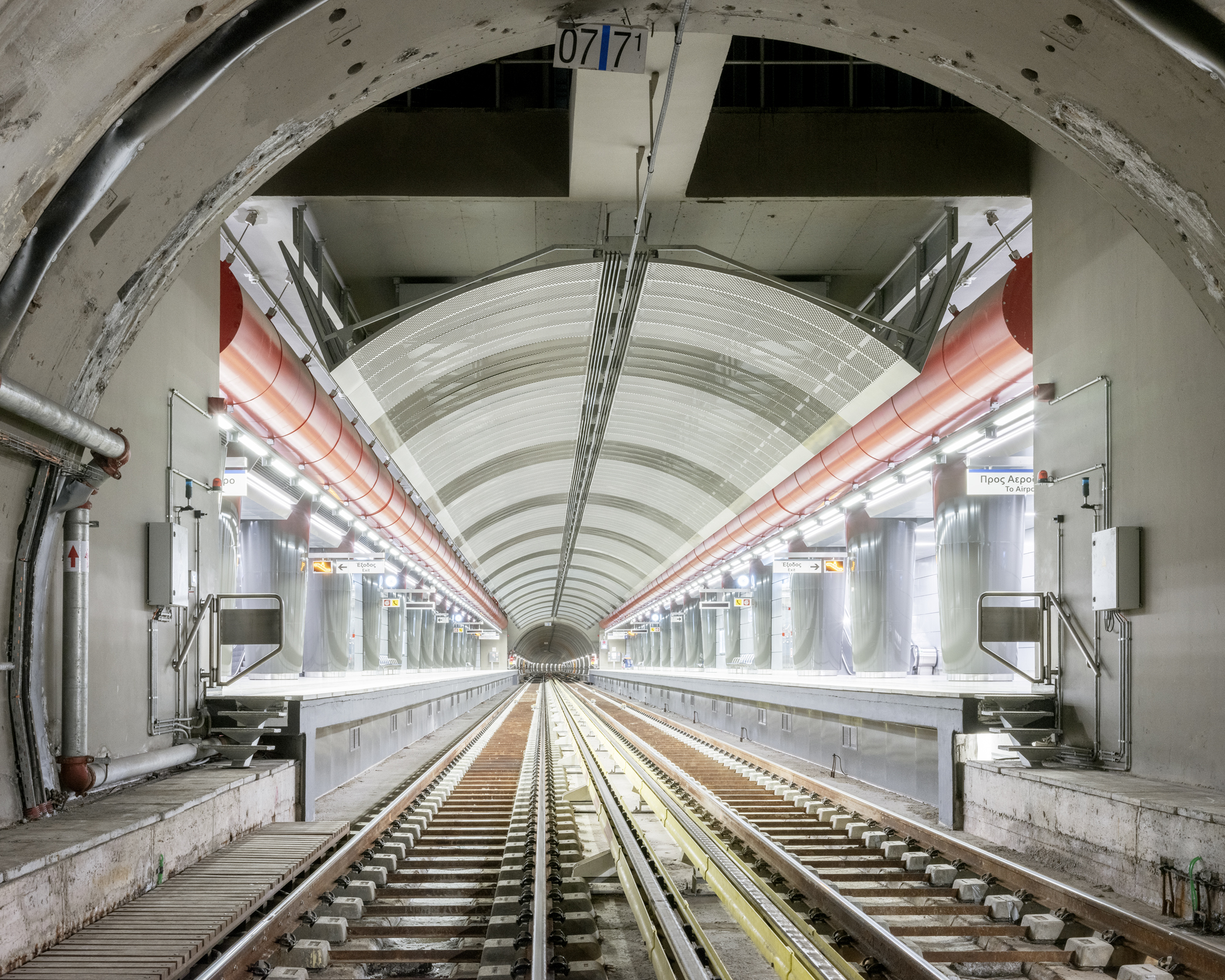 The Haidari – Piraeus extension of Line 3 stretches from Hadari, a residential neighborhood located in the western suburbs of the capital, to end at the Dimotiko Theatre station. The parallelism between the images of the construction site at the initial stage and the result, represents an ongoing dialogue between the construction site and the Greek capital as a reflection of the relationship between the city, contemporary design and historical memory.
The new section, with a transport capacity of 132,000 passengers per day, ensures a reduction in travel time of 60 minutes and a daily decrease of about 120 tons of CO2.
The excavation of the new stations has led to the discovery of a significant number of archaeological artifacts dating back to ancient Athens, including vases, amphorae, plates, figurines, and other artifacts that have been cataloged and archived by a group of expert archaeologists and specialists.
Views of the city alternate with the aseptic interiors of the subway and the components of Ippodamo, the excavating machine lowered and assembled 35 meters above the surface of the city, which completed the project.
The dialogue between technological innovation and the origin of the sites is strong: sweeping views succeed microscopic details of the TBM.
Ippodamo itself becomes an archaeological artefact, demonstrating the relationship between machine and contemporary city.
In 2021, 120 pictures from the  photographic campaign, including authors Alessandro Imbriaco  | Andrea Botto | Fabio Barile  | Francesco Neri | Marina Caneve , have been exhibited at the MAXXI - National Museum of 21st Century Art in Rome.
The exhibition Di roccia, fuochi e avventure sotterranee, followed the name of the homonymous box set.
The carousels below compare Marina's photographic shots of 2020 with those of 2023. The photographs show the infrastructure under construction and the evolution there has been, in those same spots, today that the project is complete.